Fact Checked
Unconsciousness refers to a state at which the casualty is not able to respond to any external activity—this is also known as comatose state or just coma.
The person may not be responsive to people or certain actions by being either confused or unaware mentally. A change in a person's awareness is called altered mental status. This includes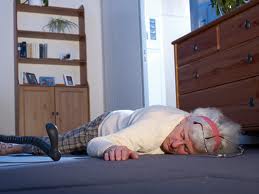 disorientation, delirium and stupor.
Note that unconsciousness or altered state of mind is a medical condition and should be considered as an emergency situation. Recognizing and managing unconscious victims is a major component of workplace approved first aid and CPR training. To learn how to manage unconscious patients with "hands on" training and certification enrol with one our training providers today.
To ensure that the casualty is 'mentally' awake, ask him these questions:
What is your name?
How old are you?
What is the date?
You can thus, determine the casualty's state of mind—if he is unable to answer any of the questions, consider him to be in an altered state of mind.
Note that not being awake or just being asleep does not imply that the casualty is unconscious. To determine if the person is sleeping or unconscious, shake him and call out his name loudly enough to wake him up. If he does not wake up consider him to be unconscious. It is crucial to call for help immediately as an unconscious person does not have control of many bodily mechanisms including coughing and clearing the throat—which may also lead to choking and death.
Causes of unconsciousness
Unconsciousness may be a symptom of another major underlying condition. Unconsciousness results from many major complications such as shock, heart attack or drug abuse such as alcohol abuse.
Sometimes unconsciousness that is short-lived, known as fainting, is a result of low blood sugar, low blood pressure, heat stroke or dehydration. However, you should not waste time trying to figure out what caused the problem and call for an ambulance immediately and then look for signs of the cause. Note that unconsciousness may also be caused by life threatening conditions such as nervous or heat problems.
Some common causes of fainting include:
Shock—this can be physical or emotional
Strained bowel movements
Breathing difficulties
Symptoms
The casualty will not respond to loud sounds, touch or any other form of activity
Confusion
Headaches
Sleepiness
Light-headedness
Inability control or move body parts such as arms or legs
Heart palpitations
Incontinence—loss of bladder and bowel control
Stupor
Treatment
If you are not alone, ask someone to call 911 or a local emergency number. If you are alone, call 911 yourself.
Check the airway and clear any obstructions if present.
Check the casualty's pulse and breathing. If the casualty is not breathing, begin CPR immediately.
Place the casualty in the recovery position—i.e. lay him on his side. Make sure he has not suffered any spinal injuries before moving him. At any point, if the casualty stops breathing, begin CPR.
Cover the casualty with a blanket and make sure he is comfortable until help arrives.
If you see someone fainting, make sure you catch him before he falls as he may suffer from major injuries by falling. Lay the casualty down and raise his feet to encourage circulation. In case, the casualty is feeling faint due to low blood sugar, give him a sugary drink or something sweet to eat until he is fully conscious again.
Caution
Do not move the casualty if he has suffered from any hip, back or head injuries
Do not force any food or drink into the casualty's mouth while he is unconscious
Do not try to put a pillow under the casualty's head
Do not try to wake a casualty by slapping him or splashing water to his face
Do not leave the casualty alone until help arrives
When to seek medical attention
Call an ambulance if:
The casualty's unconsciousness is not brief—more than a minute
The casualty has suffered any major injuries due to the fall
The casualty has diabetes
The casualty has undergone seizures
The casualty is not breathing
The casualty lose bladder or bowel control
The casualty is pregnant or over 50 years of age
Call for emergency help, if the casualty returns to consciousness, but the following conditions occur:
He is feeling chest pain or any form of discomfort due to pressure or unusual heartbeat
He is unable to move his limbs
He is not able to speak or see properly
Prevention
Standing in one place for too long—especially in people who frequently feel faint may become unconscious. Therefore, avoid standing in one position for too long, try to walk a little
Drink plenty of fluids especially while you are working in the sun
If you feel faint, sit and put your head between your knees or just lie down
Related Video