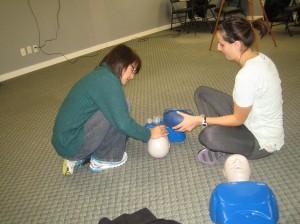 First aid re-certification in Calgary is the best among training service providers of cardiopulmonary resuscitation (CPR) certification and re-certification programs offered by other providers in the area. This provider offers high quality training courses at extremely affordable rates at various schedules. Prospective trainees are assured of only quality training as all the training programs are overseen by St Mark James.You can find a complete list of re-certification classes on the website/homepage here.
You can register for a training course through e-mail or telephone call. Walk-ins are also highly encouraged by Calgary First Aid's very accommodating staff.
You can reach the staff with the information below.
Email Address: info@firstaidcalgary.ca
Phone: 587-774-5317
Website: www.firstaidcalgary.ca
Address: Suite 102, 750 – 11th Street SW, Calgary, AB T2P 3N7
The facility is located conveniently outside of down-town Calgary directly across a a new train station. Free parking and restaurants are also within walking distance. For more information about the location check out the map posted below.
Certification Awards
Students who are able to complete their enrolled course are awarded a certificate from St Mark James, valid all throughout Canada for whatever purpose it may serve the trainee. The certificate is renewable every 3 years at Calgary First Aid refresher programs. Refresher programs are available twice a week at any of the training centers in Calgary.
Program rates of First Aid Re-Certification in Calgary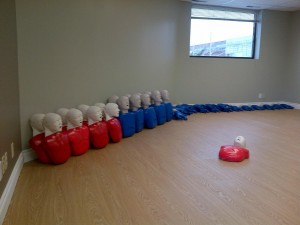 Comprehensive first aid and CPR courses include standard, emergency and childcare first aid. All of these courses provide certificates that are eligible for re-certification (if prerequisites are met). Certificates are provided at the end of the course and are valid for 3 years.
Stand-alone CPR classes are available to trainees who do not want to enrol in the full course. Calgary First Aid also offers big groups and companies with personal classes. Course rates are listed below and are inclusive of taxes, certification fees, and training manuals.
Standard first aid Re-Certification – 84.99
Emergency first aid Re-Certification – 74.99
Level HCP and AED Re-Certification – 64.99
Level C and AED Re-Certification – 54.99
Should you be unable to complete your enrolled course, a full refund is given provided a 72-hour notice was done before dropping out. Learn the basic skills on how to save a life by registering for CPR and first aid training with Calgary First Aid. Students learn basic first aid skills, cardiopulmonary resuscitation (CPR), and automated external defibrillation (AED) from quality teachers.
Popular Topics Covered in Standard First Aid Re-Certifications in Calgary
The following topics are covered in a first aid re-cert course
Scene Identification
Hazard Identification
Crowd Management
Recovery Position
Choking
CPR and AED use for adults, children and infants.
First, second and third degree burns.
Spinal and head injuries
Emergency Situations.
CVD cardiovascular disease
Environmental emergencies
Breathing emergencies
Environmental emergencies
These and many more topics are covered in a first aid re-certification course in Calgary. Topics are taught via demonstrations and participants will learn techniques for recognition and management with hands on training.
Did You Know?
Calgary First Aid ensures all of its customers that they will be attending a course with only other candidates who are re-certifying. To provide the best courses and to adhere to the highest quality standards provided by this workplace approved provider, you will not be grouped with individuals attending full courses. If you attend a course and you are in a class with people attending a first aid and / or CPR course for the first time you are likely not getting credible certification and training.
Using an automated external defibrillator is now a mandatory component of any full or re-certification course. The AED is designed to monitor heart rhythms through the sinoatrial node and help deliver a shock if needed. AED's are incredibly simple to use and provide voice instructions as they are turned on.