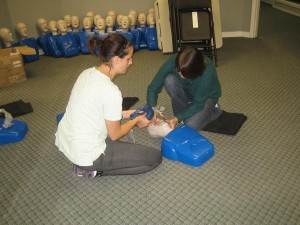 Mississauga First Aid is the largest and most popular training service provider in Mississauga. This training service provider has a wide range of available training programs offered at the most affordable rates in the area. Because of quality training, flexible schedules, and high-end training centres, students at Mississauga First Aid have never transferred out or left bad reviews. Classes are held throughout the week at various schedules, with refresher / re-certification programs available twice weekly.
Click here to view a complete list of available renewal / re-certification courses at the Mississauga First Aid website.
Register for Workplace Approved First Aid, CPR and AED Re-Certification in Mississauga
The registration form below can be used to complete your enrolment. Trainees are also encouraged to e-mail, call, or walk-in during business hours in any of the training centres.
Training program rates
Mississauga First Aid has the most affordable costs for all available classes in Mississauga. Rates are inclusive of taxes, certification fees, and training manuals so trainees don't have to worry about additional expenses.
Full refunds are given to trainees who drop out and give a 72-hour notice beforehand.
Programs
CPR training programs have three levels, each level inclusive of basic first aid and automated external defibrillation (AED) training. A workplace approved training certificate corresponds to each level of the program.
Other facts about Mississauga First Aid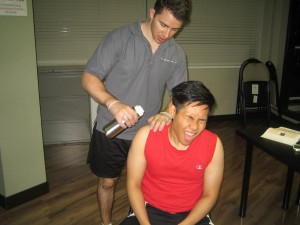 Stand-alone CPR and first aid classes are also available if you do not want to enrol in both classes in the full course.
You can inquire about booking private classes as well, usually taken by big groups of trainees and companies.
A training certificate from St Mark James is awarded to trainees who are able to complete a course. The certificate is valid for three years and may be renewed through refresher programs offered twice weekly with this provider. Not all awards can be re-certified. Check prerequisites prior to registering for this course.
All classes are taught and overseen by workplace approved certified instructors.
Classrooms are spacious and well-maintained, complete with the latest training equipment.
The facilities in Mississauga are easily accessible by public and private transportation. Amenities such as free parking and restaurants are within walking distance.
Did You Know?
Managing fevers
DO NOT use medication for fever below 102 degrees Fahrenheit (38.9 degrees Celsius) unless prescribed by your physician.
You doctor may prescribe over-the-counter medication such as acetaminophen or ibuprofen for fever above 102 degrees Fahrenheit.
Adults may take aspirin for their fever but DO NOT give aspirin to children. This may trigger Reye's syndrome where the liver and brain swell, causing death.
DO NOT give ibuprofen to infants younger than six months.
Enrol in a first aid training class to learn more about managing fevers.