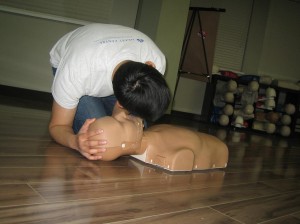 Edmonton First Aid is the leading provider of first aid and cardiopulmonary resuscitation (CPR) renewal and re-certification classes in Edmonton. It has been giving first aid and CPR re-certification classes in Edmonton since 2008 and has become the most popular provider in the area. Re-certification courses provide successful participants with certificates that meet occupational health and safety (OH&S) requirements. Re-cert classes are available for standard, emergency and childcare first aid which also provide CPR certification. Various other courses are available including pet first aid, babysitting, BLS, ACLS, on-line WHMIS and TDG training.  To register for any course or for a first aid and / or CPR re-certification class in Edmonton use the contact details posted below.
Enrolment for First Aid Re-Certification in Edmonton
Visit the Edmonton First Aid website here for a complete list of available re-certifications. You can register for a class using the form below or through e-mail or telephone call. Walk-ins during business hours are also highly encouraged by the Edmonton First Aid staff. Use the following contact information to contact this provider during regular business hours:
Email: info@firstaidcpredmonton.ca / info@firstaidcourses.ca
Telephone: 780-809-0829
Website: www.firstaidcpredmonton.ca
Address:  Suite 200 7915 – 104 Street, Edmonton, Alberta, T6E 6M6

On-line registration is available at any time of the day or night and customer service representatives are able to take your call during regular business hours. For more information about the training centre or for directions please view the map below.
Registration Form for Re-Certification Programs in Edmonton
[button url="https://firstaidrecert.com/contact-us/" background="#da4946″ size="4″ radius="10″]Register Here[/button]
Credible Alberta Workplace Approved Certification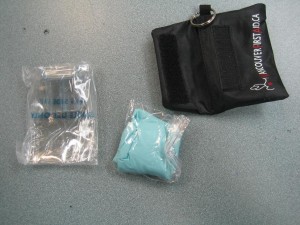 Once students finish their enrolled training course, they are awarded a training certificate that meet Alberta OH&S requirements. The certificate is good for three years and is nationally recognized. The following courses are available for re-certification with this authorized workplace provider:
Standard first aid
Standard childcare first aid
Emergency first aid
CPR level 'C'
CPR level 'HCP'
Not all courses are available for re-certification. Participants must have current, Canadian and approved certificates in order to be eligible to enrol for a re-cert course.
Best Programs and Teachers
This provider is proud of its experienced and friendly instructors. Public courses available include:
Standard first aid
Childcare first aid
Emergency first aid
Basic Life Support
Pet First Aid and CPR
Advanced Cardiac Life Support
H2S Alive Training
WHMIS Training
Food Safety Certification
On-Line Training is also available with this provider. The following courses can be taken on-line, through the Edmonton First Aid website, at your leisure:
WHMIS
MSDS
Transportation of Dangerous Goods (TDG)
Fire Safety
Build your resume and learn the latest safety skills by enrolling in on-line training.
What Will I Learn in a First Aid Re-Certification Course in Edmonton?
Participants that enrol in re-certification courses will learn about the following topics:
The latest and most effective ILCOR approved CPR and AED rescue techniques
When and how to use an automated external defibrillator
Legal implications of providing first aid and CPR
Management of conscious and unconscious choking victims
Heart Attacks
Angina
Transient Ischemic Attacks
5 Rights of Medication
Stroke
Shock
Diabetic Emergencies
Seizures
Poisonings
Heat Exhaustion
Heat Stroke
Heat Cramps
Hyperventilation
Deadly Bleeding
Internal Bleeding
Anaphylaxis (allergic reactions)
Broken Bones
Fractures
Head Injuries
Spinal Injuries
Concussions
These and many more topics are covered with hands on training using the latest equipment and teaching methods.
Private Classes
Trainees can choose to enrol in stand-alone CPR or first aid classes as well, if they do not want to enrol in a full training course. Private classes are usually taken by big groups of trainees like companies but you can inquire about booking them as well.
Best Prices in Edmonton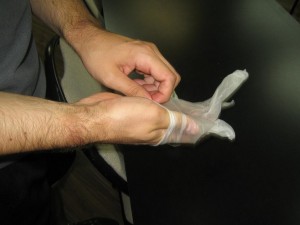 Edmonton First Aid offers the most reasonable prices within the Edmonton region. Trainees pay once during enrolment, with the fees including taxes, certification, workplace approved registration fees, and training manuals. Trainees don't have to worry about additional expenses. Lessons vary between 49 to 115 dollars depending on the program enrolled. No hidden costs and no cost surprises.
Did You Know?
Fatty plaques in our vessels (atherosclerosis) can be caused by a number of things such as unhealthy diet and genetic predisposition. Listed below are some risk factors for developing cardiac diseases related to atherosclerosis.
Old age
Hypertension
Hypercholesterolemia
Nicotine intake (smoking)
Sedentary lifestyle
Genetic predisposition/family history
Learn about how to prevent cardiac arrest and lead a healthy life style by enrolling in a training course near you. A healthy lifestyle can drastically increase your quality of life. Watch the video below for more information about atherosclerosis, its causes and risk factors.