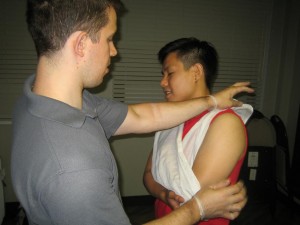 Toronto First Aid is number one training service provider of St Mark James courses in cardiopulmonary resuscitation (CPR) and first aid in Toronto. Quality classes are offered at the most inexpensive rates in the area, making Toronto First Aid very popular among students. Classes are held throughout the week, with popular classes available during the evenings and weekends. A complete list can be found here.
St Mark James Training does not provide any first aid and / or CPR re-certification / renewal classes in Toronto, Ontario at this time. Find a re-cert provider in your area by visiting the following website: www.redcross.ca/findacourse
[button url="https://firstaidrecert.com/contact-us/" background="#da4946″ size="4″ radius="10″]Register Here[/button]
Enrolment
With Toronto First Aid, you can enrol in a very hassle-free and easy way. You can enrol and register for a class using the form above or via e-mail, telephone call, or walk-in during business hours in any of the facilities in Toronto.
Programs of First Aid Re-Certification in Toronto
CPR training programs have three levels: "A", "C", and "HCP". Each level corresponds to a particular training certificate from the workplace approved. All levels are inclusive of basic first aid and automated external defibrillation (AED) training. AEDs are machines that are attached to the chest, detect heart rhythms, and apply needed shock to restart the heart.
http://www.youtube.com/watch?v=lehmZgaFMH8
If you just want to enrol in a CPR/AED or a first aid class, stand-alone or separate classes are also available. If you want to book a private class, you can inquire about them through e-mail or on the Toronto First Aid website.
Fees
When you enrol at Toronto First Aid, you can rest assured you will enrol in the cheapest, hiqh quality courses available. Rates include taxes, certification fees, and training manuals so trainees don't have to pay for additional expenses during the training. If you drop out of course you are entitled to a full refund as long as 72-hour notice was done.
St Mark James Certification
Certificates are awarded upon the completion of a course. The certificate is valid for three years, renewable through refresher programs held twice a week at Toronto First Aid.
Did You Know?
Complications of alcohol abuse/alcoholism
The biggest complication of alcohol abuse is depression of the central nervous system. Alcohol is a known "downer" and can cause depression, decreasing levels of consciousness, and reducing alertness and reaction to stimuli. Alcohol can affect mental faculties and affect thoughts, emotions, and judgement. This is very dangerous and first aid rescuers need to be aware of the dangers of alcoholism and overdrinking. Alcohol intoxication has been known to cause:
Vehicle accidents
Domestic problems
Poor work and academic performance
Violence and aggression