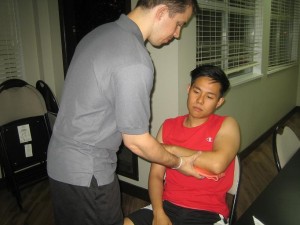 Many people in Red Deer are required to have Alberta OH&S approved first aid and CPR certification. The largest, lowest priced, most popular provider of food safe, safety, first aid, CPR and AED certification programs is Red Deer First Aid. Customers can select from over 20 different courses that are offered throughout the week at the conveniently located training centre. Learn to manage emergencies such as seizures, spinals, broken bones, heart attacks, diabetic emergencies and poisonings by taking OH&S approved standard first aid training. Participants that already have standard, childcare or CPR level "C" awards may be able to attend re-certifications. In order to be eligible for a re-certification course participants must have a credible award that is still valid. If you want to see the complete list of classes, click here. A registration form is available below to complete your enrolment for first aid / CPR  full or re-certification courses.
Red Deer First Aid registration
Trainees can register via e-mail, telephone call, or walk-in during business hours at the Red Deer First Aid training centre.
Email Address: info@canadianfirstaid.ca
Telephone: 1-888-870-7002
Website: http://firstaidreddeer.ca
Friendly and knowledgeable customer service staff are available from 8 am to 6 pm to help with registration.
Available Courses of First Aid Re-Certification in Red Deer
The following courses are available for registration in Red Deer, Alberta:
Standard first aid, CPR level "A", "C" or "HCP" and AED
Emergency first aid, CPR level "A", "C" or "HCP" and AED
Childcare first aid, CPR level "B" and AED
CPR and AED level "A", "C" or "HCP" (no first aid)
Babysitting first aid
Basic Life Support
Advanced Life Support
Food Safety Certification
On-line WHMIS, TDG and MSDS
First Responder
To register for any of the above courses use the contact information provided above.
What can Red Deer First Aid offer you?
The lowest prices in Red Deer
The most experienced, knowledgeable and friendly instructors

First Aid and CPR Training course with a Alberta OH&S approved training provider in Red Deer, Alberta.

Over 20 different first aid, CPR, AED, food safety and safety courses to choose from
A staff team that can help with registration from 8 am to 6 pm everyday
On-line course registration available 24 hours a day
On-line chat to help answer questions
A full refund policy (request must be made within 72 hours of the course)
Alberta OH&S approved certification
Conveniently located office with plenty of available parking
Private courses that can be held at the training centre or an instructor can come to you
Certification that is valid for 3 years
Over 10 years of experience providing training throughout Canada
On-line safety courses
Visit the Red Deer First Aid website to find out more about this provider.
Did You Know?
Acute kidney failure
Kidney failure is experienced by people suffering from chronic kidney disease (CKD). Failure happen when the kidneys are unable to filter the blood adequately, leading to a build up of toxins in the body. Kidney injury and subsequent failure can develop from a few hours to a few days.  Treatment such as dialysis and kidney transplants are ways to manage kidney disease and failure. People experiencing kidney failure will manifest these signs and symptoms:
decreased to lack of urine output
edema in both lower extremities
drowsiness
trouble breathing
fatigue
confusion
nausea
coma
Learn to manage and recognize serious medical emergencies by enrolling in a course with Red Deer First Aid.