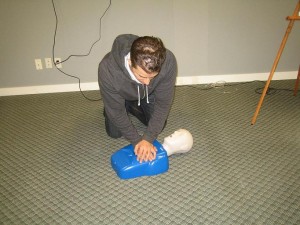 Do you need to renew an expiring first aid and / or CPR award? Is it still current and provided through a credible Canadian provider? If so, you may be eligible for a re-certification course which is considerably shorter and cheaper than the original course. These courses are held in Surrey, British Columbia with Vancouver First Aid Ltd. This is the most popular and experienced provider in Surrey and throughout the Lower Mainland. Courses are offered for as low as 25.00 dollars and participants will learn the latest American Heart Association and ILCOR standards for first aid and CPR. A large number of other courses are provided including food safe level 1 and babysitting first aid. Renew your skills in first aid and CPR by enrolling in a re-certification course in Surrey today.
Click here to view all of the available courses in Surrey including the latest re-certification classes.
Enrol in workplace approved First Aid Re-Certification in Surrey Here
To complete your registration and enrolment, enrol via e-mail, telephone call, or walk-in during business hours at any of the Vancouver First Aid facilities in Surrey.
Telephone: 1-778-709-9180
Email: info@firstaidcourses.ca
Website: http://vancouverfirstaid.ca/surrey/
Training Address: 7238, 137th Street, Surrey, B.C.
View the map below for directions and location information.

Courses in Surrey
Rates
This provider is proud to offer the lowest rates for all of its courses. Check out the following price list of re-certifications available:
Standard first aid and CPR level "C" re-certification – 72.99
CPR level "C" and AED Re-Certification – 39.99
Nobody beats these prices in Surrey!
Available First Aid and CPR Re-Certification Courses in Surrey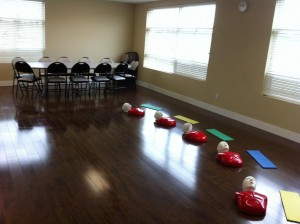 Not all courses are available for re-certification in Surrey, B.C. Participants with current authorized certificates may be able to receive re-certifications for the following awards:
Standard, Emergency and Childcare First Aid – CPR and AED included
CPR level's "C" and "HCP"  and AED (No first aid)
Other courses available (not for re-certification) include
Food Safe
H2S Awareness
Occupational First Aid Level 1 (OFA level 1)
Private Training
This training provider is popular for providing private re-certification and full courses at the Surrey training centre or at your facility anywhere in the Lower Mainland. Here's a list of some of the most popular private classes:
Standard First Aid
Food Safe Level 1
Occupational First Aid Level 1
CPR level "C"
To book a private course at your facility or at the Surrey training centre use the contac
t information posted above.
Certification
Workplace approved training certificates are awarded to trainees who are able to complete their enrolled course.
Training Facilities for First Aid Re-Certification in Surrey
All training facilities in Surrey are decked out in high end training equipment for all the training programs. The classrooms are spacious and well-maintained as well. The facilities are easily accessible, within walking distance to public transportation and free parking. Training facilities are located in Newton and Whalley business centres in Surrey.
Did You Know?
Draining a blister
Blisters are generally avoided from being drained of fluid to prevent infection. However, if popping blisters are because of work and daily activities or cause if the blisters cause pain, take a look at the list below to prevent infection when draining them.
Wash your hands with soap and water, alcohol, or sanitizer
Clean the blister and the area around it with iodine or alcohol
Using a sterilized needle or the needle portion of a sterile syringe (a syringe that is still sealed and has not been used), puncture the blister. Aim for the edge.
Drain the fluid, leaving the skin on top alone. DO NOT remove the overlying skin
Apply antiobiotic cream/ointment or clean the area again with iodine
Apply a bandage over the blister
If you notice signs of infection (swelling, pain, bad odor, pus/increased drainage), seek medical attention immediately.