Fact Checked
Overview
Bruises are bluish or purple-colored blotches that appear on the skin when small blood vessels, known as capillaries, break or rupture below the skin. The blood from the capillaries escapes into the soft tissue underneath your skin, causing the bruising.
Over time, this goes through shades of yellow or green – generally around two weeks. Bruises often feel tender or inflamed initially.
Dark Skin and Bruising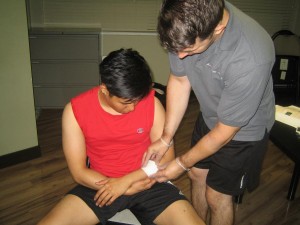 You can still become discolored if you've got dark skin, but they might show up more on light skin.
The Causes of Bruising
Bruising is caused by internal bleeding (beneath the skin) and takes place when an individual has hurt themselves.
Some individuals are certainly more likely to bruise than others – for instance, old people might bruise more quickly because their skin is thinner and the tissue beneath is more brittle.
If you get lots of bruises or start to bruise for no apparent reason, inform your GP. Uncommon bruising is occasionally a symptom of an underlying issue, such as a problem with the way your blood clots.
How To Reduce Bruising
Treat bruises on your skin by restraining the bleeding. You can do this by cooling the area with a cold ice pack (or a rag saturated in cold water) or an ice pack enfolded in a towel.
To make an ice pack, put ice cubes or a pack of vegetables in a plastic bag and cover them in a dishtowel. Hold this over the bruised area for at least 15 minutes. Do not place the ice pack directly onto your skin as this will could damage the skin.
Most bruises will fade after around two weeks. If the bruise is still apparent after two weeks, talk to your doctor and ask for a check-up.
Phone your GP if the bruise is accompanied by inflammation and severe pain, particularly if you take a blood-thinning medicine for a medical disorder.
Phone your GP if bruising occurs quickly or for no obvious reason.
Call the GP if the bruise is sore or has occurred underneath a toenail or fingernail.
Internal Bruising
Bruises don't just occur beneath the skin – they can also take place deeper in your organs, tissues and bones. Although the bleeding isn't noticeable, the bruises can cause inflammation and pain. If you're concerned that you might have internal bruising from an injury, go to the nearby emergency department to have it checked out to determine the severity.
Related Video On Bruising
https://www.youtube.com/watch?v=9QojyOMYpc0
More Information
For more information on the causes of bruising and how to recognize and manage these injuries sign up for first aid training in your area with one of our training providers. We offer OH&S approved first aid training as well as WSIB approved classes.