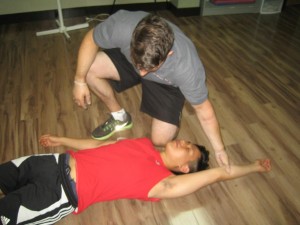 Many individuals are required to have current first aid certificates for workplace purposes. Individuals that work in oil and gas industry, teachers, caregivers, nurses, doctors, government employees and large company employees are required to have current awards. Participants that have previously attended full courses may be eligible to attend re-certification programs. Ottawa First Aid is the leading provider of cardiopulmonary resuscitation (CPR) certification and renewal / re-certification lessons in Ottawa. It has been providing St Mark James training programs in the Ottawa community since 2008 and has risen to be the number one training  provider in the area due to its low prices and high volumes of courses. Different classes are offered to prospective trainees, such as childcare, standard, and emergency first aid training programs. Trainees can enrol in training courses for stand alone CPR and / or first aid classes, private classes, and re-certification / refresher programs. To find out if a re-certification course is right for you or to register for first aid re-certification in Ottawa, Ontario use the contact information available on this page.
Visit the Ottawa First Aid website here for a list of available re-certification classes and schedules.
[button url="https://firstaidrecert.com/contact-us/" background="#da4946″ size="4″ radius="10″]For Re-Certification Click Here[/button]
Enrolment is Quick and Hassle Free
Registration for training programs by Ottawa First Aid really easy and hassle-free. Trainees may complete their enrolment using the form above, or by sending an e-mail, giving a call, or walking in during business hours in any of the training centers in Ottawa.
Trainees receive St Mark James First Aid and CPR Certification
After a trainee completes and passed a training program, he or she is awarded a workplace approved training certificate. The certificate comes in a wall-mount size and wallet-sized card. It is renewable every three years with Ottawa First Aid refresher programs, held twice a week.
Private classes are also available to Groups and Businesses
Private classes are usually booked by big groups of trainees and companies, as well as trainees who have problems enrolling in the regular class schedules. You can contact Ottawa First Aid via e-mail or telephone call to inquire about booking private classes.
Ottawa First Aid offers the cheapest course rates in the area.
Ottawa First Aid offers rock-bottom costs for all training classes. Trainees can be assured that no other providers offers cheaper classes. The enrolment fees include taxes, certification fees, and training manuals. Rates vary from 48 dollars to 120 dollars depending upon the type of certification program the trainee enrolls in.
Available First Aid Re-Certification Courses in Ottawa
Only a number of certificates are eligible for re-certification in Ontario. Participants must have a current award issued through a full (non re-cert) St Mark James training course in order to attend. The following certificates may be renewed:
Standard first aid and CPR
Stand-alone CPR and AED levels "C" and "HCP"
Standard childcare first aid and CPR
Classes are focused on knowledge and skill development. A lot of class hours are spent honing different first aid skills such as bandaging, unconscious patient care,  wound care, chest compressions, and use of AEDs.
Did You Know?
Basic Life Support
The Basic Life Support system is a concept created by the American Heart A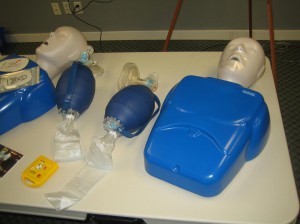 ssociation that provides an easy algorythm to follow in case of cardiac arrest. Sudden cardiac arrest (SCA) is immediately assumed once a person falls unconscious, isn't breathing, and has no pulse. Pulse and breathing is ascertained in ten seconds or less, after which chest compressions must be started. Rescue breaths are given after 30 chest compressions and the cycle is repeated until return of spontaneous circulation.