As St Mark James training providers we have several courses designed for people requiring stand alone CPR re-certifications and first aid re-certification courses. In order to be eligible for stand alone CPR re-certs a candidate must have a previous certificate from a credible provider*. Credible providers include:
The Heart and Stroke Foundation
St Mark James
The Canadian Ski Patrol
St. Johns Ambulance
*Re-certification for Ontario participants requires that certification award be provided through a St Mark James provider. Another requirement for Ontario participants is that the previous certification course can not be a re-certification class.
Eligibility Requirements for CPR Re-Certs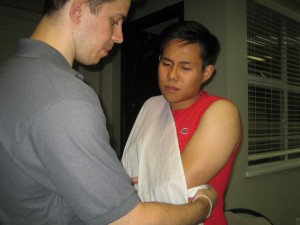 Certificates received through on-line courses are not eligible for re-certification through the workplace approved. Furthermore, certificates received in countries other than the country of the re-cert are not eligible for re-certification. First aid and CPR awards are not internationally accredited unless the candidate receives approval from the provider (ex: St Mark James). The last pre-requisite to a stand alone CPR renewal course is that the previous course needs to have been taken within the past 3 years. If a candidate has taken a refresher course or the original course any longer than 3 years then he or she is not eligible for a re-cert and must re-take the course (click here to find a provider).
CPR Re-Certifications
As training partners of St Mark James we are one of the only providers that have re-certification courses. To view all of the premier CPR re-cert providers in your area click here. This is a list of the available CPR re-certification courses that may be provided by the workplace approved (depending on your region):
Stand alone CPR level "A" and AED
Stand alone CPR level "B" and AED
Stand alone CPR level "C" and AED
Stand alone Health Care Provider CPR and AED
Each of the previously mentioned CPR re-certification courses is significantly cheaper and shorter than the full course. A CPR "C" or CPR "HCP" re-cert is approximately 5 hours in length and costs as low as 25 dollars in some regions. For more information or to register for a stand alone CPR refresher course select one of the highlighted words throughout the page and you will be directed to a site with more information and registration. We are excited to help you find a first aid and CPR course (click here for more) in your area at the lowest price!