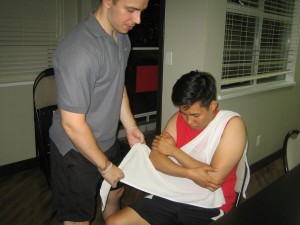 Grande Prairie First Aid is leading service provider and training affiliate of St Mark James that offers high quality training from certified instructors in high end training facilities. High end facilities are located throughout Alberta, within walking distance to public transportation and free parking. Prospective students can visit the Grande Prairie First Aid website for a list of available classes and the online registration form.
To begin your registration for a first aid and / or CPR re-certification course in Grande Prairie Alberta, click here.
Registration
Students can use the registration form on the website to complete their enrolment. Other ways to enrol and sign up include e-mails, telephone calls, and walk-ins during business hours in any of the facilities in Grande Prairie, Alberta.
Fees of First Aid Recertification in Grande Prairie
Course fees are very affordable, paid in full during enrolment so students don't have to worry about expenses while training. Rates are inclusive of taxes, certificates, and workplace approved training manuals. Students who drop out and are unable to complete a program are entitled to full refunds, provided a 72-hour notice is given beforehand.
Workplace Approved training programs
First aid training
First aid training programs are 14-16 hours long in total. Students are taught how to recognize and react to emergency situations and injuries. Topics such as emergency medical services (EMS), wound care, cardiopulmonary resuscitation (CPR), and automated external defibrillation (AED) are included in the curriculum. AEDs are machines that are attached to the chest with pads and apply needed shock to the heart.
CPR/AED
Stand-alone CPR/AED classes are also available in three different levels (A, C, and HCP), lasting 4, 5, and 6 hours long respectively. Level A is focused on adult victims. Level C is focused on adult and pediatric victims. Level HCP (health care providers) focuses on skill training on the use of bag valve masks and rescue maneuvers on adult, child, and infant victims.
Certification
Certificate cards are awarded to all students who are able to complete a training program. Wall-mount certificates are available upon request. All certificates are only valid for three years but many can be renewed through recertification programs.
Recertification for Standard first aid training is 8 hours long and inclusive of CPR level C recertification. Recertification classes are held twice a week.
The following are requirements before passing a class:
• At least 75 percent on the written exam
• Good return demonstration of skills
• Complete attendance
Extra training for First Aid Recertification in Grande Prairie
Students who want to train at home or want to hire a trainer for a special event like a conference, can book private instructors as well. They are certified by St Mark James and have hourly rates and schedules. You can inquire about booking them through e-mail or telephone call.
Did You Know?
Puncture wounds
Puncture wounds don't usually merit emergency medical attention because they close up within minutes. However, puncture wounds that are left untreated (such as wounds from a nail) can be very dangerous because of the threat of infection. Even more so for people with pre-existing conditions such as diabetes, they might not be able to feel the wound at all. If bleeding persists, be sure to seek medical attention to get the wound looked at. Keep the wound clean and dry at all time, replacing dressing whenever needed.