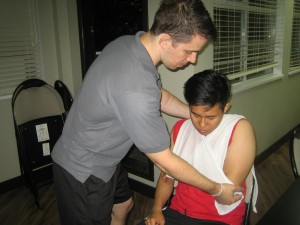 Many employment types are required to have current first aid and / or CPR certificates. Doctors, nurses, life-guards, construction workers, oil workers, gas workers, miners, industrial workers, office workers, health care professionals, security guards, massage therapists, physiotherapists, fitness workers and many more are required to maintain current first aid and / or CPR certifications. After taking the original course participants may be able to attend a re-certification course which is cheaper and shorter than the original course. Renewal programs are available for courses such as standard first aid, CPR level "C" and "HCP". Some awards, such as occupational first aid level 1, require participants to re-take the original course in order to maintain certification. The most popular provider of re-certification programs on Vancouver Island is Victoria First Aid. Its popularity is due to its low prices, great teachers and outstanding training facilities.  You can click here for a complete list of available re-certification training programs. For more contact information or details use the information posted below.
Enrollment and Registration 
To register for a course with this provider or for other services such as first aid attendee, consulting, on-line safety training, supplies, equipment,  or first aid kit re-stocking use the following contact information:
Website: http://www.firstaidcprvictoria.ca
Telephone: 1-888-870-7002 (Toll Free)
Email: info@firstaidservices.ca
Phone operators are available 7 days a week from 7 am to 6 pm. On-line course registration is available at all hours of the day.
Why You Should Register with Victoria First Aid?
Customers in Victoria have the option of registering for training with a variety of different training providers. Here's the top ten reasons why you should register with Victoria First Aid
Unbeatable prices with no hidden fees
Experienced, knowledgeable and fun teachers
Clean, well-maintained and comfortable classrooms
Free parking at the training facility
High volume of courses to help cater to your schedule
No pressure policy that allows students to re-take a course at no extra charge if they don't manage to complete it the first time.
Certification that meets WorkSafe BC, workplace and academic requirements
Re-certifications offered at least 3 times per week
Registration for courses is available by email, telephone, on-line chat, via the website or in-person.
Excellent business practices
What Will I Learn in a Standard First Aid Re-Certification Class?
Participants that enroll in a standard first aid re-certification course will cover the following topics:
When and how to contact EMS
Personal protective equipment (PPE) and barrier devices
Legal implications of providing aid
Being prepared for emergencies
The latest ILCOR and American Heart Association approved CPR and AED techniques
Management of Circulatory emergencies, breathing emergencies, sudden medical emergencies, skeletal emergencies, environmental emergencies and joint and muscle injuries.
Participants will learn with hands-on training in this comprehensive 8 hour re-certification course.
Did You Know?
Acute kidney failure
Kidney failure happens when the kidneys are unable to filter wastes from the blood. This leads to a toxic build-up in the blood, a condition known as azotemia. Toxins in the blood can cause chemical imbalances and damage to other major organs. Acute kidney failure can happen because of:
Condition that slows blood flow to the kidneys such as hypertension
Trauma and/or injury to your kidneys
Damage to the ureters – the tubes that lead from the kidney to bladder