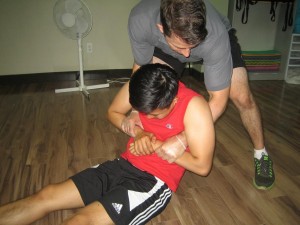 Lethbridge First Aid is a St Mark James training provider that offers quality training for the most affordable rates. Students can enrol in full training courses, stand-alone classes, and recertification programs for first aid and cardiopulmonary resuscitation (CPR). Classes are held in high end training centers at flexible schedules throughout the week.
Visit the Lethbridge First Aid website to choose a course from the list of classes, rates, and schedules. You can use the online registration form to complete your enrolment. Click here to register for a re-certification course now.
Rates of First Aid Recertification in Lethbridge
Lethbridge First Aid course rates are the most affordable in the area. They are paid in full during enrolment and are inclusive of taxes, certificates, and workplace approved registration fees. Training manuals and use of equipment are also included.
Students who drop out or are unable to complete a training program are entitled to a full refund, provided a 72-hour notice is given beforehand.
First aid training
First aid training programs teach students to recognize and react to a variety of emergency situations and injuries. The program lasts 14-16 hours and is held at various schedules throughout the week, evenings and weekends included for popular classes. Topics such as wound care, cardiopulmonary resuscitation (CPR), and automated external defibrillation (AED) are included in the course syllabus.
Stand-alone CPR/AED
Stand-alone or CPR/AED-only classes are also available. These have three levels to choose from: A, C, and HCP, lasting 4, 5, and 6 hours respectively.
http://www.youtube.com/watch?v=vXim8rU7lY8
Recertification
Students are awarded certificate cards from St Mark James once they pass a class. Complete attendance, at least 75 percent on the written exam, and good return demonstration of skills are needed to pass. Wall-mount sized certificates are also available upon request.
The certificates are only valid for three years and can be renewed (if prerequisites are met) through recertification programs held twice a week. Standard first aid recertification is 8 hours long and includes CPR level C recertification.
Private instructors for First Aid Recertification in Lethbridge
All instructors at Lethbridge First Aid are certified by St Mark James. They can be booked for private training at home, for employee workshops, and conferences. Just send an e-mail or give a call to inquire their rates and schedules.
Did You Know?
Poisoning: when to call your local emergency number
Changes in level of consciousness (alert to drowsy to unconscious)
Difficulty/trouble breathing to not breathing at all
Restless and agitated
Note: If the victim doesn't manifest any signs and symptoms but poisoning is suspected, call your local/regional poison control center.