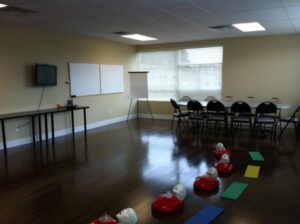 Halifax First Aid is the only training service provider of the largest selection of workplace approved certification programs in Nova Scotia. Classes on cardiopulmonary  resuscitation (CPR) and first aid are available at various schedules, evenings and weekends included. Refresher programs for the renewal / re-certification of expiring certification is available twice a week. Choose a program here and enrol today!
About Halifax First Aid
Registration
After visit the Halifax First Aid website and choosing a course, send us e-mails, telephone calls.
Walk-ins are also highly encouraged.
Classes
Full training courses in CPR have three levels: "A", "C", and "HCP". Each level corresponds to a specific workplace approved training certificate.
All levels of training include basic first aid and automated external defibrillation (AED) training. AEDs are machines that detect heart rhythms and apply needed shock when attached to the chest.
Stand-alone classes are also available if you just want to enrol in either CPR or first aid. Stand-alone CPR classes include AED training as well.
You can send an e-mail or give a call to inquire about booking private classes, usually taken by big groups and companies.
Certificates
St Mark James training certificates are awarded to trainees after completion of a training program with Halifax First Aid.
The certificates are renewable within three years.
Refresher programs are held twice a week at Halifax First Aid.
Fees
Course rates offered by Halifax First Aid are the most competitive in the area.
Rates include taxes, certification fees, and training manuals so you don't have to worry about additional expenses.
Full refunds are given to trainees who drop out with a 72-hour notice.
Instructors and Facilities for First Aid Re-Certification in Halifax
All classes are overseen by workplace approved certified instructors.
Classrooms are spacious and well-maintained, decked out in the latest training equipment.
The training facilities are within walking distance to public transportation, free parking, restaurants, and shops.
Did You Know?
Complications of alcohol abuse
Alcohol is a known depressant that has detrimental effects on our physical and mental well-being. It can cause aggression, poor work and academic performance, and isolation. Physically, it can cause a myriad of conditions, starting with the liver and other major organs. Alcohol abuse and intoxication can cause:
Liver disease – our blood is filtered through the liver and continuously high levels of alcohol in the blood can cause the liver to become inflammed (alcoholic-induced hepatitis). Persistent alcoholism can cause permanent damage and scarring of the liver known as cirrhosis.
Digestion problems – alcohol can also cause inflammation of the esophageal and stomach lining. With a damaged stomach, our body cannot absorb important nutrients like Vitamin B. Drinking can also damage the pancreas, messing with insulin and glucose regulation.
Heart problems – Excessive alcohol can cause hypertension and increases a person's risk of getting heart disease.
Diabetes – Alcohol damages the liver which is responsible for glucose production and regulation (along with the pancreas)