Fact Checked
Overview of Croup
Croup is the inflammation of the windpipe and voice box. The inflammation can make it hard to breathe.
Causes of Croup
Croup is caused by viral infections such as: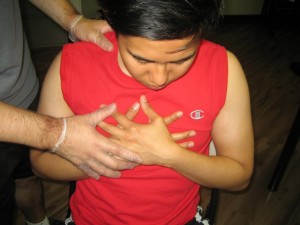 Respiratory syncytial virus;
Rhinovirus;
Adenovirus;
Enterovirus;
Influenza virus type A;
Reovirus; and
Measles virus.
Symptoms
Croup regularly begins with symptoms related to an upper respiratory infection. The symptoms can come on unexpectedly and usually at night. The following is a listing of common croup symptoms:
Cough that resembles a barking sound;
Huskiness;
Fever;
A callous, piercing sound when your child breathes in, particularly when crying or troubled;
Problem breathing, particularly breathing in; and
No desire for food and fluid consumption.
More severe symptoms of croup that might need immediate medical care include:
Nails, lips and mouth may start to turn blue. This is a medical emergency. Phone for an ambulance.
Decreased awareness. This is also a severe symptom. Phone for an ambulance.
Impatience or anxiety. This can be due to extreme lack of oxygen.
Battling with each breath.
Piercing sound when breathing.
Problem swallowing.
Salivating.
Vomiting and queasiness.
Dizziness.
Quick, uneven heartbeat; pain in the chest.
Treatment
Treatment options consist of:
Hospital Care
For severe croup, your child might need to be hospitalized. Hospital care might consist of:
Croup tent. Fresh, moist air provided inside a plastic tent;
To treat swelling and respiratory problems; or
IV fluids.
Related Video On Croup